Ruth has trained and works with a specialised practice of music-making in health settings such as special schools, care homes and hospitals. She has particularly focused on working in hospital settings with children. This involves music-making that is interactive and patient-led, with the child and their families at the centre of the music. The goals are not therapeutic, and thus this work is not 'music therapy'. However, many of the approaches are recognised by music therapists.
On the wards
In Stockholm, Ruth has led and carried out the project "Kreativt musikskapande på barnavdelningen" (Creative music-making on the children's ward) on the wards at Sachsska children's hospital on Södermalm. With an initial 12 sessions over a period of 8 weeks, Ruth and her co-musicians (Lucy Rugman and Joakim Lundström) worked on 2 wards at the children's hospital in the autumn 2018. The starting point of the music making was an artistic process, focused on musical communication and enjoyment. Music making is improvised and in the now, interactive and patient led, with the child and their family at the centre of the music. The project was supported by Stockholm läns landsting. After the success of this project, and lots of positive reception from both staff and families on the wards, Ruth has delivered a longer follow up project between May and September 2019. Ruth is now investigating the next steps needed to develop and expand the program to other hospitals with the Kompetenscentrum för kultur och hälsa in Stockholm.
For more information: www.ruthspargo.live/musikochhalsa
You can also follow the project on instagram: @musikochhalsa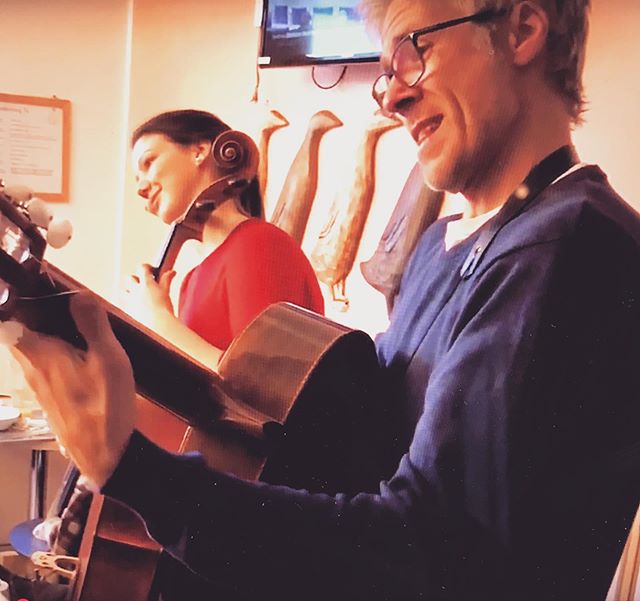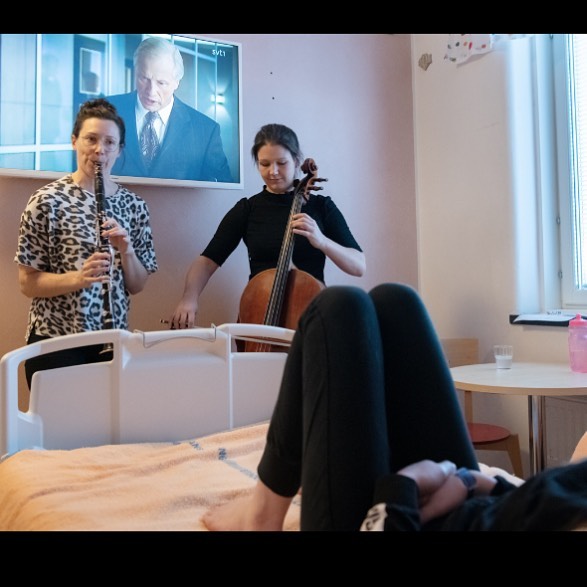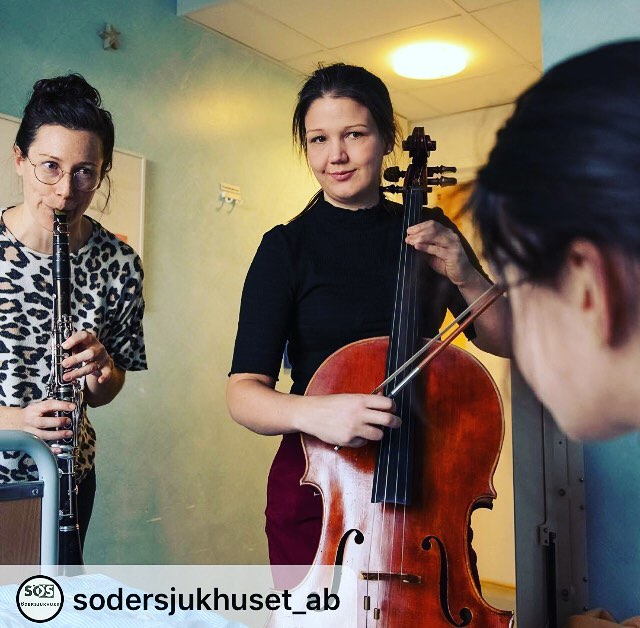 In Manchester, she has been developing a project with Cecily Smith Nesbitt called "Message in a bottle" as part of a series of fledgling residences for LIME: Music for Health. After 2 short projects in September 2016 and January 2017, they have successfully embedded a program of music-making into the Burns Ward at the Royal Manchester Children's Hospital. In September 2017 they began a new project on the Intensive Care and High Dependency Units at the Royal Manchester Children's Hospital. Ruth presented on this work at the Wingbeats conference in November, 2017. Ruth was one of the original trainee musicians on the Medical Notes program at the Royal Manchester Children's Hospital in 2011. After this she undertook some training with Musique et Santé in Paris in June 2012.
Salford University's School of Nursing, Midwifery and Social Work undertook research around both of the Medical Notes programs. You can read these by clicking the links below.
Report 1 The RNCM Medical Notes Project at the Royal Manchester Children's Hospital Outcomes for children, families, musicians and hospital staff, FINAL REPORT July 2012

Report 2 Music-making with hospitalised children outcomes for children, families, hospital staff and musicians from LIME Medical Notes (2) and Songbirds projects : A research report
School settings
Also in Sweden, Ruth has taken part in a training program for freelance musicians, organised by Musik Alliansen and Con Brio, to develop musical working practice in special schools. This was a 2-day program of training and co-delivering workshops at Jorielskolan special school in Stockholm during November 2015.
In February 2017, Ruth attended a further training session to update her skills. See here for more info!
Con Brio is developing international ' Communities of Practice' in the fields of music and special needs, health and wellbeing. Ruth is one of the musicians working in partnership with Con Brio, committed to increasing quality and range of music making for children and adults with complex needs: whether in special schools, hospitals, care homes or other settings. Find out more, here: http://www.conbrio.co/what-we-do/communities-of-practice
In October 2017, Ruth was involved in her colleague Lucy Rugman's project "Fritt Spelrum" working with children with special educational needs and disabilities, culminating in a performance at Musikaliska, Stockholm. In March 2019 she was involved in a further project in collaboration with Västerås Sinfonietta. In November 2019, Ruth will be involved further in a Fritt Spelrum project in collaboration with Musikcentrum Öst and Konserthuset Stockholm.
Elderly care settings
Alongside musicians at Scenkonst Sörmlands, Ruth helped program and performed a "Afternoon tea" concert tour in elderly and dementia care settings all over Sörmlands in the spring of 2019: https://scenkonstsormland.se/musik/musik-i-vard-och-aldreomsorg-2019/afternoon-tea. Ruth has also delivered a tour of interactive concerts (with the string quartet Rosakvartetten) in elderly and dementia care settings for Västmanlandsmusiken. (August 2016)
LOVE NOTES is a program about the art of communicating one's love by that other quartet is now included in Stockholm läns landsting catalogue for concerts in health and care settings. They have played and will continue to play the program for audiences in these settings throughout 2019/2020! See here for more info: http://kulturutbud.sll.se/love-notes
Trainer/Educator
Originally, Ruth became interested in this field of work after taking an elective in "Music for Health" during her studies at the Royal Northern College of Music. Now and since 2014, Ruth has taken on the role of "Junior training officer" and has been assisting with the training of current RNCM students taking the "Music for Health" elective. During the later stages of the Medical Notes project in Manchester, Ruth became first a mentor, and later, a supervisor, to further trainees on the second Medical Notes program between 2013 and 2015.
In Stockholm, Ruth will be involved in devising a training program during 2019/2020 for professional musicians interested in working with music in hospitals in a more interactive and creative way.